Panama has long been a swaggering convergence of tropical paradise, colonial architecture, sordid deals and racketeering. The epitome of its debauchery was Manuel Noriega, the CIA-paid dictator whose penchant for blackmail made him the most feared man in the White House.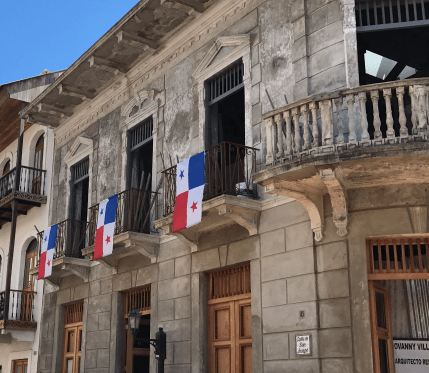 When notorious welsh pirate Captain Morgan arrived to sack Panama City in 1671, he found that the retreating Spanish had already burned the city to the ground. The city was then rebuilt on a small peninsula and became a hallmark of colonial Spanish architecture. This old city, known as Casco Viejo, is now the cultural heart of Panama City and the setting for many of the scenes in The Noriega Tapes.
In 1989 another invasion occurred – this time by the United States – and left many of the historical buildings scarred and crumbling. While many of these ruins have been redeveloped into ritzy expat-funded hotels, the Spanish heart of the peninsula still beats loudly. Energetic locals and colourful stalls fill the cobblestone streets and live music vibrates through humid alleyways. There is a haunting juxtaposition between dilapidated townhouses and upmarket boutique stores, and you can feel that the avenues are in a slow, somewhat resistant transition.
Highlights of Casco Viejo include the Plaza de la Independencia, Herons' Palace and the ruins of Noriega's old Union Club (the set for a James Bond film).
While Casco Viejo becomes the scene of much of the action in The Noriega Tapes, the novel also features a thrilling chase across the Caribbean, from Cuba through to Honduras, Nicaragua, and down to Panama City. Explore the full route and a gallery from each location below.